Exceptional Standards
Consistent Performance
Commitment to Quality
With over 330 years of innovation and passion, Husqvarna provides professionals and consumers with lawn and garden products that set the industry standards. Husqvarna offers a wide and growing range of products and accessories, including everything from chainsaws and string trimmers to innovative robotic lawnmowers.
At SteveCo Power, we want to help you create outdoor spaces you love and have fun while you do it. That's why we've partnered with Husqvarna. Their commitment to quality and customer support for outdoor power equipment helps homeowners like you more easily achieve the results they desire.
Industry Leading Warranty Coverage
Products designed and built to high standards and backed by industry leading warranty coverage, providing peace of mind for all who rely on outdoor power equipment.
Rigorously Inspected
Hours of testing and trials to meet industry standards. Husqvarna ensures that your new tool will be expertly assembled, rigorously inspected, and tested before delivery.
Everything You Need
Husqvarna offers a complete range and assortment of tools and accessories to keep your business or project moving.
.
All Day Comfort
Every Husqvarna is built around the user, with features that make them comfortable and ergonomic, getting you through the longest days and the most demanding projects.
Original Parts and Accessories
There's nothing as good as the genuine original. High-quality Husqvarna parts are designed to help you get the most out of your equipment.
Commitment to Quality
With more than 300 years of product design, development, and innovation, centered around the user, Husqvarna is committed to offering quality without compromise.
Husqvarna Equipment Available
Lawn Mowers
Whether you own a home or a commercial fleet, you know quality matters when it comes to a riding mower. That's why Husqvarna works tirelessly to deliver the best lawn mower lineup available.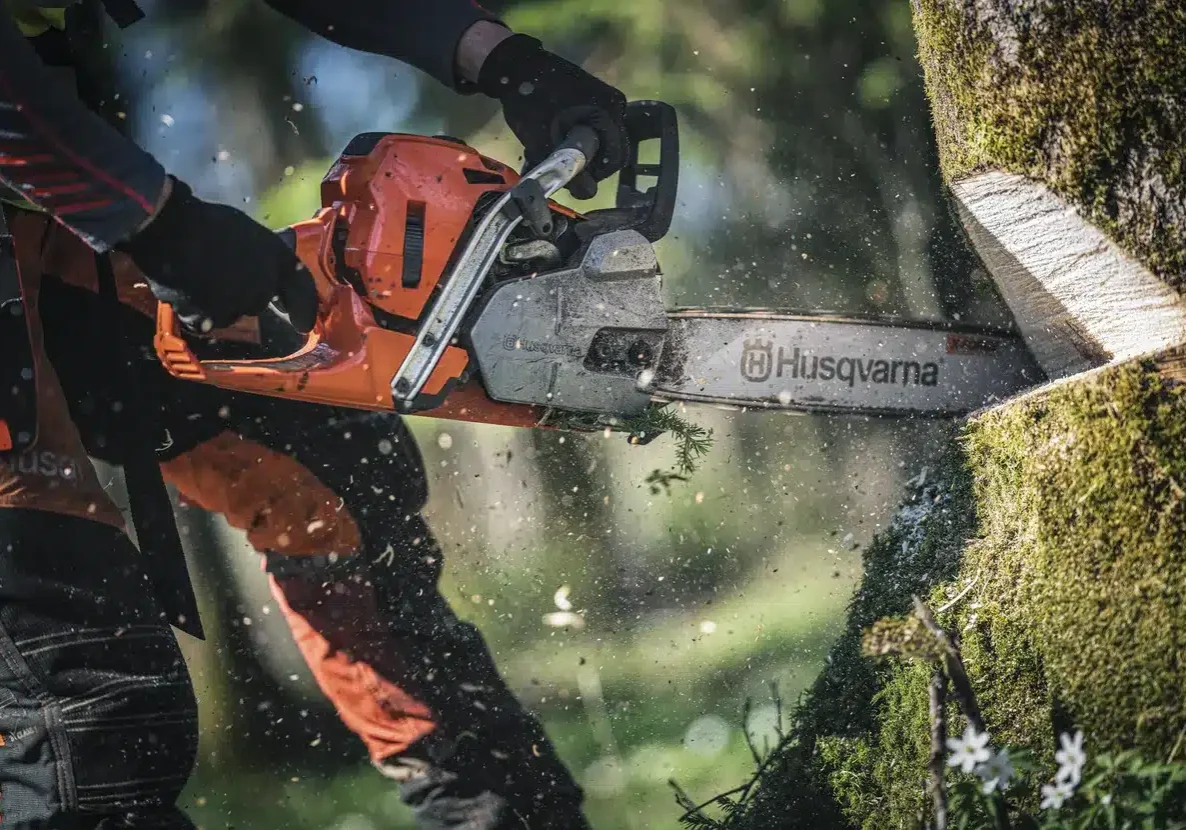 Chainsaws
Find the best chainsaw for the biggest job sites or for your own backyard. Husqvarna builds world-renowned gas and battery-powered chainsaws for professionals and homeowners.
String Trimmers
Whether you're a professional or just a weekend warrior, find the best string trimmer for your next lawn maintenance task with a new battery, gas, or combi line trimmer from Husqvarna.
Leaf Blowers
Choose a top-rated leaf blower for a variety of tasks. Trusted by homeowners and professionals alike, Husqvarna leaf blowers help you get the job done comfortably and efficiently.
We Make Purchasing New Husqvarna Equipment Simple
Contact Us

Let us know what you're looking for.

Get A Quote

We walk you through your options so you can choose what's best for you.

Scheduling Is Set

Our sales team will arrange a day that easily fits within your schedule.

Work with Pride!

Keep your lawn well-maintained and looking its best with the quality and comfort you will only get with Husqvarna.
Your Local Lancaster County Husqvarna Equipment Dealer!
Husqvarna, a name synonymous with quality and innovation, has a remarkable history spanning over three centuries. What began as a Swedish weapons manufacturing venture in the late 1600s has evolved into a global powerhouse known for producing a wide array of products, ranging from sewing machines to motorcycles and chainsaws.
The company's journey from a local arms factory to a leader in outdoor power products and construction equipment is a testament to its adaptability and commitment to excellence.
In 1689, against the backdrop of European wars and the need for hydropower in the manufacturing process, a drilling works was established near the waterfalls of Huskvarna, southern Sweden. This marked the birth of Husqvarna, a company that would go on to leave an indelible mark on various industries.
As the demand for weapons declined, Husqvarna seized the opportunity to diversify its product line, capitalizing on the precision engineering skills honed during its weapon manufacturing days. This shift led to the creation of sewing machines, hunting weapons, wood stoves, mincing machines, bicycles, motorcycles, gas stoves, and more. Husqvarna's ability to think outside the box and apply innovative solutions to product development was exemplified in the creation of its first chainsaw. By incorporating motorcycle muffler technology, they managed to cut noise levels in half compared to their competitors, addressing noise pollution issues prevalent at the time.
Throughout its long history, Husqvarna consistently introduced groundbreaking products. These innovations include the X-Torq engine, which enhanced fuel efficiency and reduced exhaust emissions, AutoTune technology for professional chainsaws, battery-powered mowers and chainsaws with the performance of petrol-powered ones, and the development of robotic mowers, which transformed lawn maintenance.
Today, Husqvarna products are found in home gardens, parks, forests, and construction sites around the world, providing users with the confidence to excel in their tasks.
In Lancaster County, you can experience the legacy of Husqvarna through your local dealer, SteveCo Power. As a trusted partner, SteveCo Power offers access to the full range of Husqvarna products, from lawnmowers to chainsaws, ensuring that the tradition of quality and innovation continues in your community. With Husqvarna's extensive history of excellence, you can trust SteveCo Power to provide top-of-the-line outdoor power equipment and construction solutions, backed by the trust and reliability that has been built over the past three centuries.
Husqvarna's journey from a rifle factory in the 17th century to a global leader in outdoor power products is a testament to its commitment to innovation and customer satisfaction. With SteveCo Power as your local Lancaster County dealer, you can count on Husqvarna's legacy of excellence to meet all your outdoor power and construction equipment needs.
Your Local Outdoor Power Equipment Center