Enhanced Design
Exceptional Performance
Professional Power
Are you tired of using an unreliable mower with below-average performance? Maybe it's time to consider upgrading your equipment.
At SteveCo Power, we want to help you create a distinguished lawn with comfort and efficiency. That's why we've partnered with Toro.
Their mowers are engineered to prioritize comfort, making your mowing experience not just efficient, but also enjoyable.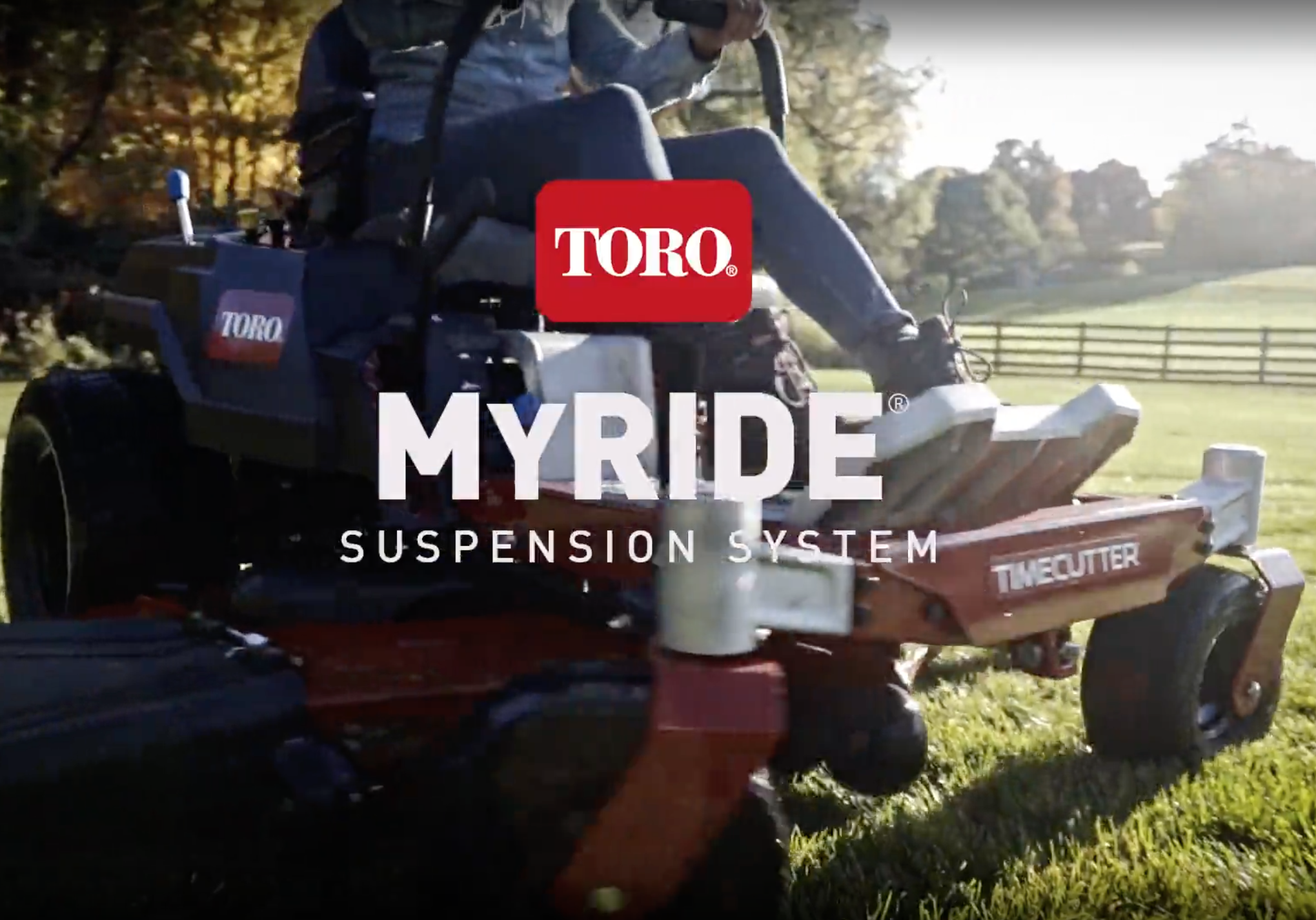 MyRIDE® Comfort System
Toro's got your back. Literally. Their patented MyRIDE® Suspension System features a suspended, fully-floating rear and front shock adjustable operator platform that takes the bumps so your body doesn't. With MyRIDE, the best seat in the house is actually in the yard.
IronForged® Decks
Built to Last. Get years of reliability and top performance with the IronForged® Deck, a 10-gauge high-strength fabricated steel deck shell, reinforced leading-edge across the entire deck, huge 6-inch spindles, and belts reinforced with bulletproof material.
Built With ProDNA
The same, commercial-grade DNA that professionals rely on courses through the veins of every mower Toro builds - giving you lawn-dominating power, durability, and precision to get the job done quicker and right the first time.
Super Charged Clippings
Vortex Technology provides more airflow to supercharge your grass cutting. The ultra-fine clippings created by Toro's Recycler® Mulching System become Lawn Vitamins™, nourishing your grass and cultivating a greener, more lush lawn.
Pick Your Pace
Self-propel mowers that adjust to you - no knobs, no levers, no messing around. Grab the easy-to-steer handle and go with Personal Pace® Auto-Drive.
Recycler® Cutting System
Don't just cut your grass — nourish it with Toro's Recycler Technology. Slice and dice those grass clippings into tiny pieces and return that nutrition back to your lawn. With a Recycler, a healthy, green, lawn has never been easier.
Zero Turn Mowers
Unleash these commercial powerhouses on your acreage with MyRIDE® Suspension, pro features, and rugged durability.
Stand on Mowers
The Revolution Series GrandStand: Eco-friendly, connected, and efficient. Toro's HyperCell battery system ensures all-day productivity for your lawn care business.
Walk Behind Mowers
Groundbreaking 60v mowers with Pro-level Striping tech for golf course-worthy patterns in your yard. Lightweight, adjustable speed, and Dual-Blade precision for superior results.
We Make Purchasing A New Toro Mower Simple
Contact Us

Let us know what you're looking for.

Get A Quote

We walk you through your options so you can choose what's best for you.

Scheduling Is Set

Our sales team will arrange a day that easily fits within your schedule.

Work with Pride!

Keep your lawn well-maintained and looking its best with the quality and comfort you will only get with Toro.
Your Local Lancaster County Toro Mower Dealer!
Toro mowers have a rich history of innovation and quality in lawn care.
Since 1914, Toro has been a leader in outdoor power equipment, helping people achieve beautiful lawns
.
It all began in Minneapolis when Toro started making engines for Bull Tractor Company
.
By 1921, they'd developed their first motorized lawn mower, setting the stage for their journey in the lawn care industry
.
Over the years, Toro kept pushing boundaries. In 1948, they introduced a mower with a mulching blade, changing how people managed grass. They didn't
just
cut grass; they left
finely
shredded clippings as natural fertilizer.
In the '60s, Toro brought self-propelled mowers like the Toro Whirlwind, making lawn care easier
. They also launched the Toro Snow Hound snow blower, known for its reliability.
In the '80s, Toro catered to pros with the Groundsmaster, their first commercial zero-turn mower
. They were now serving both homeowners and professionals.
In the '90s, Toro's focus on sustainability led to the Recycler mower with a Recycling Cutting System
. It
finely
chopped clippings and spread them
evenly
for healthier grass.
The 21st century saw Toro embracing battery-powered tech with the e-Cycler and e-Cycler Cordless mowers
. These
eco-friendly
options showcased Toro's adaptability.
Toro mowers
are trusted
for their durability, precision, and ease of use. The TURBO FORCE® deck ensures a clean, even cut every time.
One of Toro's strengths is versatility. They offer models for small residential lawns to vast commercial properties. You get the right tool for your job.
Toro's commitment to sustainability is a big plus. Their mowers reduce emissions, noise, and fuel consumption, making lawn care greener.
Toro mowers are also known for user-friendliness and ergonomic features. The MyRIDE® Suspension System ensures comfort during long hours of mowing.
Toro's Horizon Technologies make lawn care smarter and more connected. Remote monitoring and diagnostics help optimize mowing operations.
In sum, Toro mowers are a history of innovation and quality.
They've come a long way from 1914, offering a wide range of models, advanced tech, and eco-friendliness
. Toro isn't
just
about mowing grass; it's about delivering an exceptional mowing experience.
Your Local Outdoor Power Equipment Center