High-Quality
Professional
Financing
Nothing is more frustrating than having equipment that doesn't start when you need it or breaks down while you're using it. If you are going to keep your property looking amazing on a consistent basis, you need reliable equipment. That's why at SteveCo Power, we make it easy for you to buy the best mowers and outdoor power equipment on the market.
Easily Purchase Durable Outdoor Power Equipment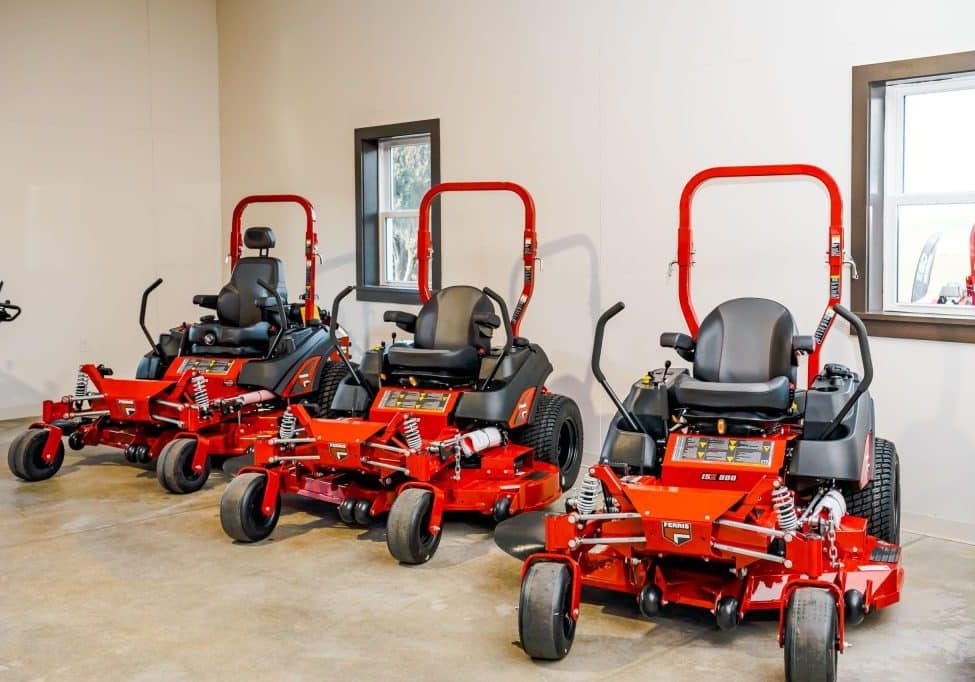 Sales & Discounts
Keep your eyes open for sales and discounts, and save money on your new investment.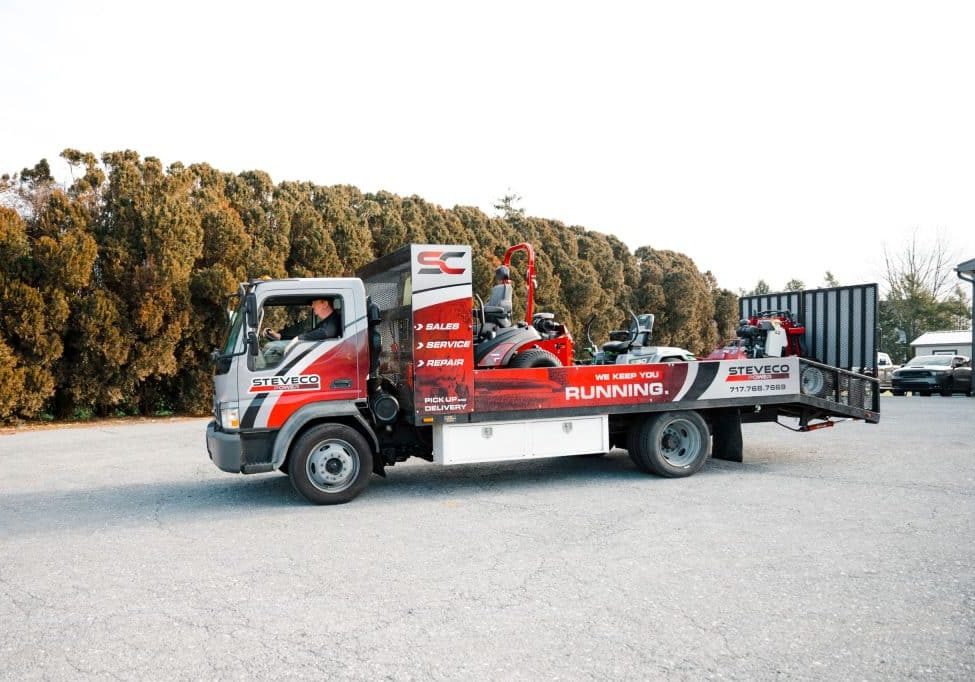 Free Delivery
Ask us if your purchase qualifies for free delivery.
Service Packages
Receive a variety of complimentary service packages during sales days.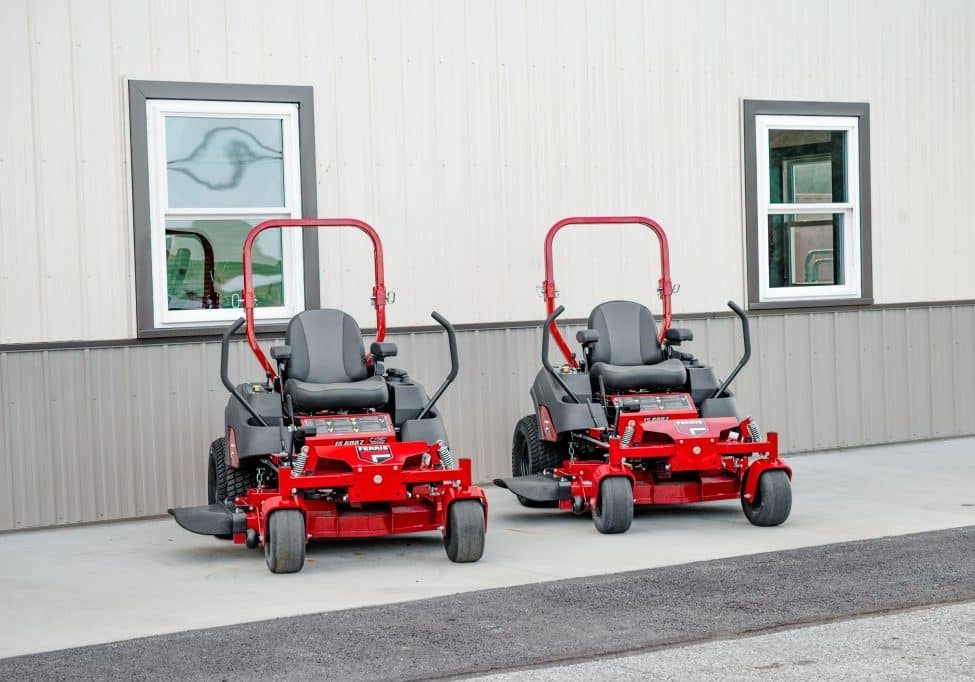 Demo Units
Before buying, try one of our demo units to ensure your investment will be exactly what you need. (Only available for select models)
Communication
We keep you involved throughout the repair process, contacting you with recommendations and keeping you informed through every step to avoid unwanted surprises.
Our Team
Whether it's sales or service, our team is knowledgeable, well-trained, and equipped to help you get the most from your investment with exceptional service and high-quality brands and parts.
Expedited Service
We work hard to minimize your downtime - especially during the summer and busy seasons when you can't afford to be without your equipment.
Experience
With our customer's best interests in mind, we've been helping homeowners, landscapers, and farmers throughout Lancaster County since 1990.
Contact Us

Let us know what you're looking for.

Get A Quote

We walk you through your options so you can choose what's best for you.

Scheduling Is Set

Our sales team will arrange a day that easily fits within your schedule.

Work with Pride!

Enjoy maintaining your property with high-quality and reliable equipment.
Keep on Working with Equipment You Love
Your Local Lancaster County Lawn Mower & Power Equipment Sales Center!
Have you ever been frustrated when your outdoor power equipment breaks down or needs significant repairs?
At SteveCo Power, we have your best interest in mind. Whether you are in the market for new equipment or need a reliable service center for your equipment, we have you covered. We provide you with choices of high-quality equipment and expedited service times to enhance your mowing experience, empowering you to work more efficiently without sacrificing comfort.
If you live in Lancaster County or nearby, call, text, or stop by to see how we can help you turn a dreaded chore into an enjoyable pastime.
At SteveCo Power, we know you want to mow in comfort and work around your home with complete satisfaction. To do this, however, we understand that you need high-quality equipment and fast service that allows you to keep working.
We know that when you have a lot of ground to cover, productivity is critical, so our sales department provides you with premium choices of high-quality equipment that will maximize your efficiency without sacrificing your comfort. Our knowledgeable and helpful sales team offers exceptional customer service to simplify the process and help you choose the right equipment.
If your equipment is constantly breaking down, you might be frustrated that you continuously need to return it to the shop, causing headaches and unwanted downtime. Or maybe you're tired of extended lead times, paying a premium for mediocre service, being blindsided by large bills, or being uninformed about repairs.
We understand the frustration that comes with these problems; trust us, it has happened to all of us. That's why we aim for expedited turnaround times and work hard to minimize your downtime - especially during the summer and busy seasons when you can't afford to be without your equipment. Not only do we work hard to minimize your downtime, but our highly-trained technicians pay attention to the slightest details, and we perform quality control checks throughout the repair process. But we don't stop there; we provide regular communication and keep you involved throughout the repair process, contacting you with repair recommendations and keeping you informed through every step to avoid blindsiding you and giving you unwanted surprises.
Our goal isn't just to get your equipment back up and running as soon as possible, but to keep it working throughout the rest of the season, so you don't need to worry about being unable to work around your home for extended periods of time due to faulty equipment.
At SteveCo Power, you can work with a company that values communication and expedited turnaround times and know that you are getting the best equipment and parts available with the help of our knowledgeable and well-trained team!
The best time of the year to buy a new mower will depend on your individual circumstances or preferences. If you're looking for a specific model, the best time of the year to purchase a new mower is generally late winter or early spring, just before the start of the mowing season. That is when demand is lower, and the availability of mowers is typically at its best. If you're looking for the best deals, take advantage of our clearance sales at the end of the year.
The best mower for you depends on your specific needs, preferences, and budget. At SteveCo, we aim to provide you with high-quality products at reasonable prices. Call us or stop in at our location, talk to one of our professionals, and let us guide you to making the best selection for your preferences and budget.
The battery technology in the lawn and garden industry has improved by leaps and bounds in the last few years. There are many brands of battery products to choose from, but Ego+ stands out from the competition with its industry-leading technology. Ego+ gives you the peace of mind that can only come with their industry-leading five-year warranty on all their tools, plus their 56 Volt ARC Lithium battery is universal for all of their equipment; they have one battery platform compatible with their small hand-operated equipment like string trimmers, chainsaws, and leaf blowers to their small walk-behind and larger Zero Turn mowers. If you have a smaller lawn, there are several benefits of using an electric mower versus a gas-powered mower.
Ease of Use: Battery-powered equipment is much easier to start and operate than gas-powered equipment. They don't require pulling any cords or fuel priming and activate at the touch of a button. They are also typically lighter and run with reduced vibration, making the equipment nicer to handle for people of all ages and physical abilities and reducing operator fatigue.
Quieter Operation: Battery-powered equipment operates much quieter than gas-powered equipment, making them ideal for use in residential areas where noise levels must be minimal. Not only will you enjoy using Ego+ equipment, but your next-door neighbors will also applaud your choice of equipment.
Lower Maintenance: Battery-powered equipment requires much less maintenance than gas-powered equipment. Gas engines demand regular maintenance and constant refueling, while battery-operated equipment requires minimal maintenance to remain in mint condition. With battery-powered equipment, you can spend less time working on your equipment and more time working on your lawn.
Cost Effective: With minimal maintenance and no fuel costs, battery-powered equipment costs less to operate in the long term.
However, it's worth noting that battery-powered equipment may have limitations regarding power and runtime compared to their gas counterparts, which may be important considerations for larger lawns or more demanding cutting conditions.
SteveCo offers financing options through Sheffield Financing, Mower Finance, & Clicklease. Interest rates vary depending on the brand and the size of the mower. Call us or stop in at our location and let one of our professionals set you up with the best interest rate for your specific needs. SteveCo also offers huge discounts and savings if you pay your equipment upfront with a check or cash.
Your Local Outdoor Power Equipment Center