Hassle-Free
Pickup & Delivery
Quick Turnaround Times
Are you needing work done to your mower but worried about long lead times, expensive repairs, or not being treated fairly?
At SteveCo Power, we believe everyone deserves a local mower service center that keeps your equipment running while providing the best customer service available!
Repairs & Service To Keep Your Mower At Its Best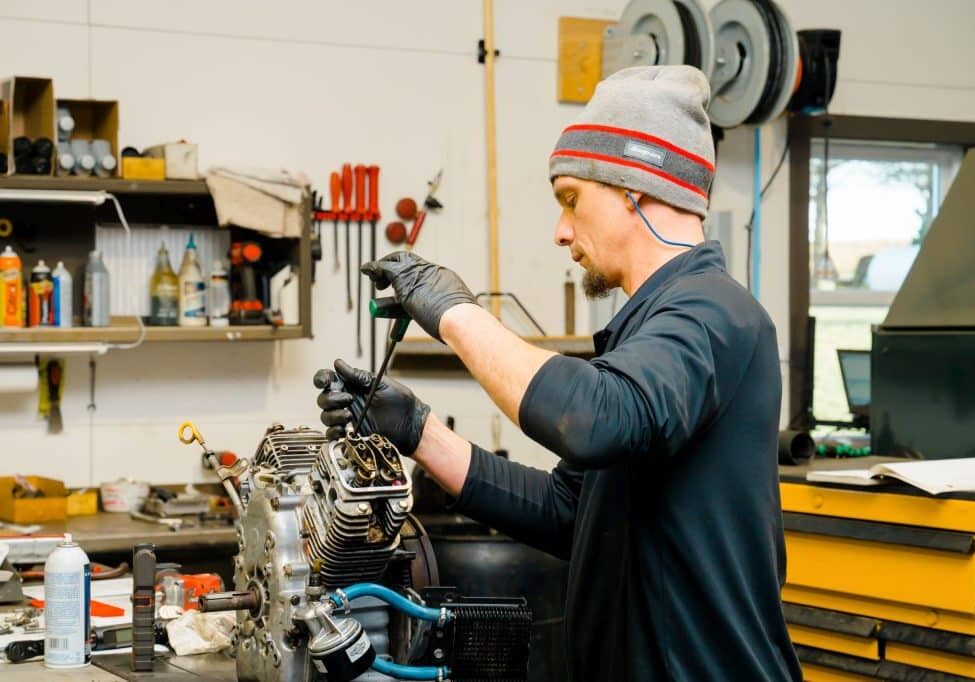 Customized Service Packages
Pick the servicing options that best fit your budget.
Loyalty Program
Ask us about our loyalty program.
Speedy Maintenance
Get back to taking care of your lawn in record time.
Communication
We keep you involved throughout the repair process, contacting you with recommendations and keeping you informed through every step to avoid unwanted surprises.
Our Team
Whether it's sales or service, our team is knowledgeable, well-trained, and equipped to help you get the most from your investment with exceptional service and high-quality brands and parts.
Expedited Service
We work hard to minimize your downtime - especially during the summer and busy seasons when you can't afford to be without your equipment.
Experience
With our customer's best interests in mind, we've been helping homeowners, landscapers, and farmers throughout Lancaster County since 1990.
We Make Mower Service in Bird in Hand Simple
Contact Us

Let us know what you're looking for.

Get A Quote

We walk you through your options so you can choose what's best for you.

Scheduling Is Set

Our service team will arrange a day that easily fits within your schedule.

Work with Pride!

Quickly return the lawn work you enjoy.
Have Fun Keeping Your Lawn Looking Its Best
Your Local Bird in Hand Mower Service & Repair Center!
Many homeowners feel frustration when their outdoor power equipment requires expensive repairs or is not performing as expected.
At SteveCo Power, our knowledgeable staff provides the highest-quality equipment and expedited service times so that you can mow in comfort and work around your home with pride.
If you live in Bird in Hand or nearby, then call, text, or stop by to see how we can make your mowing and other outside work easier and more enjoyable!
Do you dread yard work and outdoor projects because your equipment isn't working correctly?
Having weak or broken equipment won't get you very far when you're trying to tackle a large outdoor project! 
Whether you're cutting firewood, trimming your lawn, cleaning up leaves, or mowing – powerful, ready-to-use equipment is essential for finishing your yard work and outdoor projects! 
At SteveCo Power, we provide quick and reliable repair services and equipment rentals for the residents of Bird in Hand, PA. We also have a wide selection of new and pre-owned power tools and equipment.
Whether your power equipment needs to be serviced, repaired, or replaced, our team will get your equipment working so you can get the job done. 
Call or text us today!
—--
Bird-in-Hand, PA, is an unincorporated community in East Lampeter Township and has a population of 402. Bird-in-Hand covers a total of 0.62 square miles of land, a small portion of that being Mill Creek. 
Where did the unique name of Bird-in-Hand come from? 
According to legend, two road surveyors finished their work for the day and were discussing whether they should travel to Lancaster for the night or stay in the crude log hut inn nearby. 
"A bird in the hand is worth two in the bush," said the one surveyor, suggesting that it was better to stay in a log hut nearby instead of traveling and searching for a place to stay. 
The inn soon became called "Bird-in-Hand Inn," and its sign featured a hand holding a bird. Today, Bird-in-Hand Village Inn and Suites is located on the site of the original inn. 
Bird-in-Hand is located in the heart of Amish County and features some tourist attractions, including quilt shops, a farmers market, a bake shop, family restaurants, a live theater, and buggy rides. 
Some must-visit places in or near Bird-in-Hand include: 
Some popular community events held in Bird-in-Hand include: 
We serve the Bird-in-Hand zip code, 17505, and surrounding zip codes. 
If you live in Bird-in-Hand or the surrounding areas and need lawn mower repairs, services, or new power equipment, call or text us at SteveCo Power! We'll be happy to help you find a solution. 
We look forward to hearing from you!
We provide lawn mower sales to the greater Tri-state area, including PA, DE, MD, and NJ.
We provide our mower service and repairs to most of the general Lancaster and Chester County areas. Please call/text us or contact us to see what's possible for your area!