Hassle-Free
Pickup & Delivery
Quick Turnaround Times
Are you needing work done to your mower but worried about long lead times, expensive repairs, or not being treated fairly?
At SteveCo Power, we believe everyone deserves a local mower service center that keeps your equipment running while providing the best customer service available!
Repairs & Service To Keep Your Mower At Its Best
Customized Service Packages
Pick the servicing options that best fit your budget.
Loyalty Program
Ask us about our loyalty program.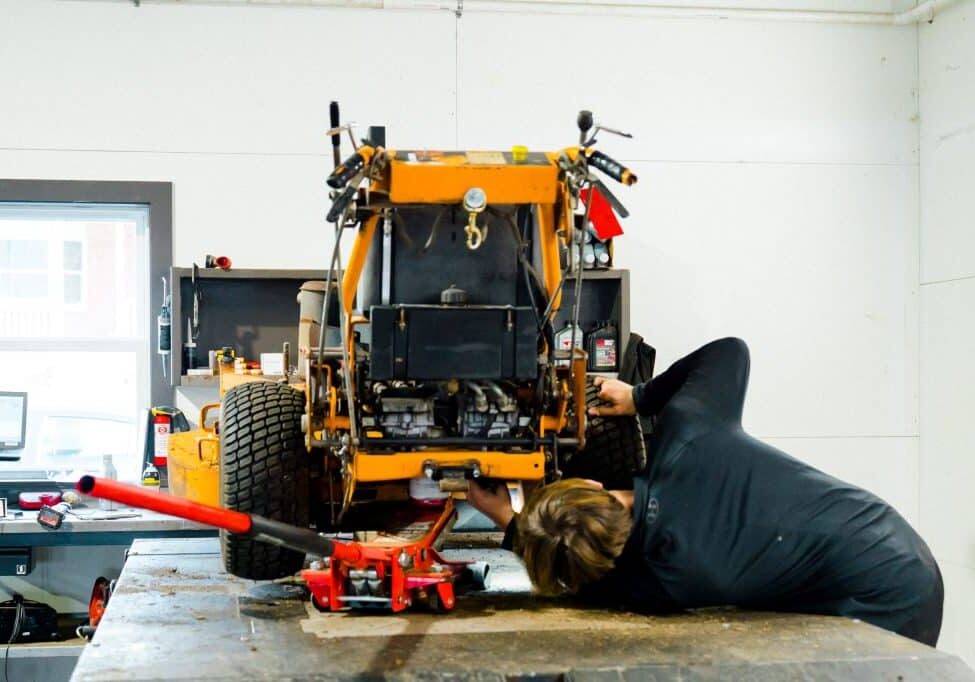 Speedy Maintenance
Get back to taking care of your lawn in record time.
Communication
We keep you involved throughout the repair process, contacting you with recommendations and keeping you informed through every step to avoid unwanted surprises.
Our Team
Whether it's sales or service, our team is knowledgeable, well-trained, and equipped to help you get the most from your investment with exceptional service and high-quality brands and parts.
Expedited Service
We work hard to minimize your downtime - especially during the summer and busy seasons when you can't afford to be without your equipment.
Experience
With our customer's best interests in mind, we've been helping homeowners, landscapers, and farmers throughout Lancaster County since 1990.
We Make Mower Service in Gap Simple
Contact Us

Let us know what you're looking for.

Get A Quote

We walk you through your options so you can choose what's best for you.

Scheduling Is Set

Our service team will arrange a day that easily fits within your schedule.

Work with Pride!

Quickly return the lawn work you enjoy.
Have Fun Keeping Your Lawn Looking Its Best
Your Local Gap Mower Service & Repair Center!
Many homeowners feel frustration when their outdoor power equipment requires expensive repairs or is not performing as expected.
At SteveCo Power, our knowledgeable staff provides the highest-quality equipment and expedited service times so that you can mow in comfort and work around your home with pride.
If you live in Gap or nearby, then call, text, or stop by to see how we can make your mowing and other outside work easier and more enjoyable!
Are you tired of dealing with broken outdoor equipment? It can be so frustrating when you are working hard to finish a task and then your equipment malfunctions or breaks down! 
At SteveCo Power, we understand how frustrating it can be when your lawn mower or other gear malfunctions. That's why we offer fast and reliable repair services, equipment rentals, and top-of-the-line products for residents of Gap, PA. 
Whether you need a quick fix or a long-term solution, our team has got you covered. Get in touch with us today to learn more!
Gap, PA, is an unincorporated community located in Lancaster County, in Salisbury Township. It has a population of around 2,000 residents, and covers approximately 1.5 square miles of land. The area is famous for its beautiful, rolling farmland and its high population of Amish and Mennonite residents. 
Because of this high Anabaptist population you will find plenty of Amish-related attractions in the area such as home-style restaurants, stores selling Amish goods, and plenty of scenic farms! 
The Kitchen Kettle Village is an especially popular attraction in Gap, which is comprised of a collection of shops and restaurants specializing in Pennsylvania Dutch cooking and goods. The Old Windmill Farm is another popular tourist destination. At the farm you can get a tour, a horse drawn buggy ride, and taste homemade cheese. 
A few other popular Gap attractions include: 
September Farm Cheese

Lapp Valley Farm

Rough and Tumble Historical Association

Strasburg Rail Road

Cherry Crest Adventure Farm

Amish Village

The Star Barn Village

Dutch Wonderland

The Green Dragon Farmer's Market

Intercourse Canning Company

Railroad Museum of Pennsylvania

Landis Valley Village & Farm Museum

Sight & Sound Theatres
Plus all the outdoor adventures you can find in the area! 
If you take a dive into the past, you'll find a fascinating history associated with Gap and the surrounding areas. Gap was originally settled in the early 1700s by Mennonite and Amish farmers looking for fertile ground to settle and farm. The town was named after the "gap" in the surrounding hills where the Newport Turnpike passed through. The Newport Turnpike increased the traffic that flowed through the town, spurring commerce and growth. Gap soon became a hub for trade and transportation. Today, the town is home to plentiful small businesses, and is a popular tourist destination. 
Niche.com describes the Gap community in these words: 
Gap is a suburb of with a population of 2,381. Gap is in Lancaster County. Living in Gap offers residents a suburban rural mix feel and most residents own their homes. Many young professionals live in Gap and residents tend to be conservative. The public schools in Gap are above average.
If you live in Gap or the surrounding areas and are looking for lanwmower repairs or services, or for a lawnmower to buy, get in touch with us here at SteveCo Power! We would be happy to help you out! 
We serve the Gap zip code, 17527, and surrounding zip codes. We look forward to hearing from you! 
We provide lawn mower sales to the greater Tri-state area, including PA, DE, MD, and NJ.
We provide our mower service and repairs to most of the general Lancaster and Chester County areas. Please call/text us or contact us to see what's possible for your area!